Recipe of the month: SEPTEMBER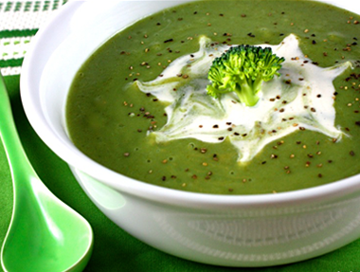 'Is Food Making You Sick?' contains more than 150 strictly low histamine, low histidine, low oxalate and antihistamine recipes.
Broccoli Soup with Turmeric
(Vegan, Vegetarian, Paleo, Gluten-Free, Dairy-Free)
Makes 4 servings
When our bodies do not produce sufficient quantities of daomine oxidase enzymes (DAO), we can become histamine intolerant. The intestinal mucosa is where much of the body's DAO is produced. By protecting the intestinal mucosa, we may help boost our natural production of DAO.
Broccoli is a member of the brassica family of vegetables. Vegetables in the brassica family contain sulforaphane, a chemical that stimulates the body's natural ability to fight cancer and protects the mucosa of the small intestine.
Turmeric is a golden spice that contains the powerful anti-inflammatory compound curcumin. Studies have shown that curcumin not only possesses pain relieving properties, but also has a protective effect on the intestinal mucosa. Curcurmin's absorption is greatly increased when it is eaten with piperine, a compound found in black pepper.
Nigella sativa, also known as black cumin or black seed, has anti-inflammatory, anti-tumor, anti-bacterial, and anti-histamine properties.
Ingredients
1 tablespoon rice bran oil
1 small white onion, diced (1/2 cup)
1 stalk celery, diced
1 1/2 teaspoons salt
2 garlic cloves, minced
1 teaspoon turmeric powder
1 large head of broccoli with stems removed and cut into florets
1 bay leaf
5 cups vegetable stock
1/4 teaspoon fresh ginger, grated
1/8 teaspoon ground nigella 'blackseed'
1/8 teaspoon freshly ground black pepper
1/2 cup cream (or 1 small chayote – Sechium edule – chopped, if you wish to have creamy soup with fewer calories)
1/2 tsp amchoor powder
Method:
1. In a large saucepan with a lid, warm the oil over a medium heat. Add diced onions and celery. Sprinkle with 1 teaspoon salt. Cook until soft. This should take 3 to 5 minutes.
2. During the last 1 to 2 minutes of the cooking process, add garlic and turmeric. Turn down the heat to low and continue to cook, while stirring frequently so that the garlic and turmeric will not burn.
3. Add vegetable stock, broccoli florets, bay leaf, black pepper, ginger, blackseed and remaining 1/2 teaspoon of salt. Cover pot with lid and cook over medium-low heat until broccoli is tender. This should take 25 to 30 minutes. (If you are using chayote, now's the time to add it.)
4. When the broccoli is cooked to tenderness, remove saucepan from heat and add cream. Puree soup with a stick blender (or in a bench-top blender) until it is smooth and creamy. Taste the soup and add more salt if you think it's needed.
5. Pour hot soup into bowls and garnish with a dash of cream, a pinch of black pepper and a sprinkling of amchoor powder. Serve immediately.